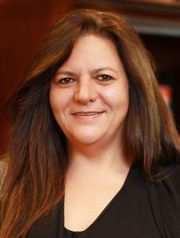 Longtime M.C. Cash principal, Ms. Lisa Sandomir passed away on Wednesday, October 27 as a result of injuries due to a car accident on Tuesday afternoon.
Ms. Sandomir has been the beloved principal of M.C. Cash for sixteen years, an amazingly gifted leader and caretaker of her students, staff, the Cash community, and her fellow administrators.  She has been recognized throughout the district and state, including receiving Arizona's highest honor for principals as well as M.C. Cash being named as an A+ School of Excellence under her leadership.  She was known throughout the community for her love and devotion to providing a positive Kids at Hope learning environment for children.
To support our students and staff, our entire counseling and psychology teams will be on campus in the days ahead to provide support, including walk-in counseling.
District administration is in contact with Ms. Sandomir's family and we will keep the community informed of services and other plans to honor her legacy.
Message from the Governing Board
"As Governing Board members, we want to express our heartfelt sympathy for the loss of Lisa Sandomir, Principal of M.C. Cash School.  For so many years we have watched her lead the Cash Community with excellence.  Her love and generosity will be carried forward in the thousands of people she impacted.
Thanks to all of our community members who have reached out to express their condolences.  We know that the Laveen community will do what it always does:  support each other in challenging times.
We encourage you to remember, celebrate, and honor Lisa's memory as we move forward together."
Mrs. Jill Barragan, President
Ms. Michele Anderson, Clerk
Dr. Ryan Senters, Member
Ms. Fern Ward, Member
Dr. Torrence Watkins, Member
Community Gathe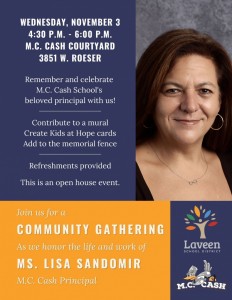 ring Planned for November 3
A community gathering to honor the life and work of Ms. Sandomir will take place from 4:30 p.m. to 6:00 p.m. in the M.C. Cash School courtyard.
Contribute to a mural
Create Kids at Hope cards
Add to the memorial fence
Refreshments will be provided. This is an open house event.
Local News Outlets Spotlight Ms. Sandomir's Legacy
Oct. 29 – Channels 3 and 5
Oct. 29 – 12 News
Nov. 1 – Univision
Nov. 3 – ABC15
Nov. 3 – 12 News
Nov. 3 – FOX10